What is a Global Marketing Strategy?
A global marketing strategy supports business expansion into new markets around the world. It creates a brand vision, such as messaging, marketing, and advertising, and determines how to position a brand in foreign markets. It's common for global marketing strategies to operate from one centralized headquarters (HQ) and to standardize their marketing messaging across global markets.
Global marketing strategies can be valuable for companies with products or services that don't require high degrees of local responsiveness and localization. A global marketing strategy can help broaden your company's consumer base, enhance your reputation and brand awareness, and increase revenue. Your global marketing strategy must be carefully developed and consider every aspect of markets in the countries where you hope to do business.
Global Marketing vs. International Marketing
The terms "global marketing" and "international marketing" are similar concepts with several key distinctions. 
With global marketing, a brand adopts a universal strategy for the markets it sells in and introduces its brand and products worldwide. Global marketing is an option if your business designs and develops one product or has a business format, markets it with consistent messaging, or when international customers perceive the same value and benefits from your products or services.
Conversely, international marketing involves the process of production, distribution, promotion, and selling of products or services across borders. There is a more personalized and localized aspect to an international strategy. Rather than simply exporting goods abroad, subsidiaries often operate at a local level and adapt products to meet local needs.
In summary, global marketing is more generalized, whereas international marketing is more localized. Both options have their advantages and disadvantages, and adopting aspects of both can put your company in a position to thrive as you expand globally.
How to Develop a Global Marketing Strategy: 5 Steps
A global marketing strategy must have concrete objectives, be based on market research, and consider multiple different angles. Here's where to begin:
1. Outline Your Goals
Marketing is the effort behind business-oriented goals because goals provide clarity to every aspect of expanding a business. Without goals, you won't know if your hard work is making inroads into new markets. It's like planning a vacation - to see when you've arrived, you need to select a destination first.
To ensure your goals are attainable, construct SMART goals. SMART is an acronym for:

SMART goals tie in with key performance indicators (KPIs). They vary from business to business, but the most commonly used KPIs include revenue growth, profit margin, and customer satisfaction. A productive KPI provides objectives and a way to measure performance over time. Each SMART goal focuses on a KPI you want to target, how you can quantify it, and how long it will take to achieve.

2. Conduct Thorough Market Research
Market research highlights valuable information about the international markets you want to enter, including potential regulations, competition, country-specific considerations, etc. Different cultural norms, languages, connotations, company messaging, communications, and marketing campaigns will not have the same effect in other geographical markets. Global market research helps reconcile these differences across countries by focusing on cultural and geographical differences.
A productive way to assess a market's potential for your business is to research keyword search demand. You can use Google trends to see general international trends in the markets you choose to explore. Additionally, keyword research tools like KWfinder can give you specific search volume estimates of your keywords and phrases by country. You can also conduct market research through survey companies like SurveyMonkey to assess international demand and uncover opportunities that may not be available domestically. 
3. Create Location-Specific Buyer Personas
Buyer personas are fictional, generalized representations of your ideal customers and provide insights into potential customer thought processes, motivations, and character traits. Buyer personas tell you more than just who the person is; they explain when, how, and why the individual makes decisions that ultimately impact your company's bottom line.
General buyer personas don't necessarily cross borders, however. With international markets, you must go a step further and understand your target audience's particular cultural buying habits, behaviors, and values in that country. Your buyer persona should reflect these traits to see if the foreign market they reside in is a good match for your business.
4. Solidify Global Marketing Channels
Once you know all about the markets you're targeting, you can begin to ask how to target your audience. Your marketing team needs strong, resonating messaging to build campaigns that drive marketing return on investment (ROI). Consider these different marketing channels:
Paid Search and Organic Search
Paid search involves paying for ad space on search engines such as Google and Bing, so your website ranks at the top of the search engine results page (SERP) for your target keywords. This high-intent strategy allows you to put your brand directly in front of your target audience when they are searching for the products or solutions you offer.
On the other hand, taking time to focus on organic search can also yield positive results. Search engine optimization (SEO) is the process of creating web pages that show up naturally within the SERP (search engine results page). Rather than having to pay for the ad space, your site ranks completely for free. However, SEO is a process that takes a significant amount of time and effort, especially when dealing with multilingual websites and prioritizing international SEO.
Ideally, both of these channels should be prioritized in tandem. Try to develop a steady flow of revenue from paid search that can fund efforts in building an organic presence that will pay off down the line.
Paid Social and Organic Social
Paid social content refers to marketing across social media platforms like Facebook, Instagram, Twitter, LinkedIn, YouTube, TikTok, etc. This includes promoted posts, ads, and any campaign that seeks to increase followers. Paid social media can boost your organic content that's already posted or a new, unique post you create only for advertising.
Organic social media content features any free content shared on social media profiles, including social media posts, videos, stories, and more. This approach creates and sustains the community around your brand, offers content that increases leads and sales, and retains existing customers.
Media Planning and Buying
Media planning and buying refer to the process of buying ad space on relevant digital media outlets such as websites, television networks, and video streaming sites like YouTube. Media buying is especially helpful for developing brand awareness, however, specific audiences can be targeted anywhere throughout the buying cycle.
In the context of a global marketing strategy, the ads you display must be localized so that the local market can understand the message you are pushing and the products and solutions that you offer.
Email marketing
Email marketing connects with your audience to promote your brand and increase sales. Email marketing extends your company's presence, brand, and other marketing efforts. If your brand is strong in one country and not in another, that will influence your email marketing results. Media consumption is also different per country, so you'll need a different approach to email marketing per country.
5. Implement, Analyze, and Optimize
Once you've worked through steps 1-4, it's time to press "go" and implement your global marketing strategy. Once your strategy is put into play, how can you monitor and evaluate the success of a campaign?
Return to your original goals and KPIs. If you've set clear and defined KPIs and goals for your marketing campaign, you can begin to look at data and measure KPIs. The key to data is listening to it and tweaking it accordingly to deliver on business objectives. Now, you can continually evaluate performance and make adjustments as needed.
Key Components of a Global Marketing Strategy
Developing a global marketing strategy goes beyond measurable KPIs and market research. Several vital components directly enhance and measure your international marketing strategy.
Global Messaging and Branding 
Building buyer personas and solidifying marketing channels directly lead to communicating with your customers. Ask yourself: is your brand messaging consistent? Does your target audience fully understand it? How can you adapt your messaging to reflect the culture you are targeting? This is something to consider across media, advertisements, and website content called translation and localization.
Culture and Language Barrier & Standardization vs. Customization Process
When marketing new products or services to new audiences in their native language, adapting them to that target market's culture is essential in a global marketing strategy. When it comes to the website, cultural adaptation refines the website content and considers the language, culture, and flow to provide users with the most valuable and relevant experience. According to a Common Sense Advisory review study, nearly 73% of customers prefer to purchase a product or service from a site that provides information in their language, and 56% of consumers said the ability to obtain information in their language is more important than price.  
In a standardization vs. customization process, a balance between standardizing translated content, like always translating a product name the same way, and customizing content, like localizing different content pieces and campaigns uniquely for other markets, is also likely to happen in a global marketing strategy.
Regardless, tradução de websites and localization can help you go beyond converting copy from one language to another. Localization ensures that the content translation takes account of local cultural nuances, contains cultural references that will speak to the specific audience, and has the right tone. Localization also ensures that the translated content doesn't use idioms or phrases that won't translate well. A localização considera os dialetos de idioma usados em uma região ou país de destino e adapta todos os elementos de conteúdo do website para consumo local ou regional. The localization method modifies the language and website elements to appeal to the cultural preferences of the target customers.
Multilingual Websites
Your company website is the gatekeeper to your brand, and a multilingual website will ensure that your target audience can understand and interact with your business. MotionPoint offers solutions for translating and localizing multilingual websites and can help your company adapt to differences in culture and language. MotionPoint's localization solutions fully support creating and managing multilingual websites through our translation technologies. This solution facilitates translation and localization through built-in, automated technologies.  
MotionPoint proxy translation platform dynamically and instantly translate content so end users can view your website in their local language. MotionPoint manages proxy servers to retrieve content, translate it in real-time, then display content automatically on your website. And with MotionPoint's integração de tradução systems, the process is supported with seamless technology such as connectors, application programming interface (APIs), or plugin technology.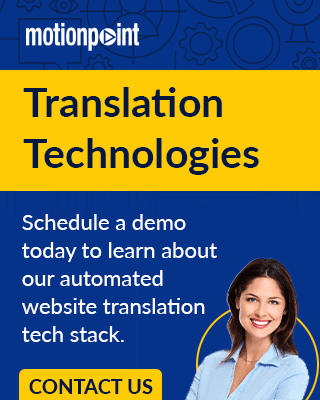 Packaging and Shipping Considerations
International packaging and shipping are tremendous marketing components if you sell a physical product. You, of course, have physical packing and shipping considerations. Another critical aspect of international shipping is handling duties and taxes for your customers. Shipping may also be impacted by regulations from the countries you're shipping to, which needs to be considered before expanding your business.
The key to international shipping is planning and communicating your strategy before shipping. Then, partner with shipping carriers to develop the right strategy that offers your customers choices and cost-effective ways to get your products to your international customers.
Communicate to Global Audiences with Confidence
Whether your business goals include increasing your global reputation, increasing revenue, or testing global product-market fit, developing a global marketing strategy is a solid way to begin. Your efforts will be appreciated if you communicate to your audience with confidence and accuracy. MotionPoint is a localization company that can support your communication goals. Our technologies and translation services were built to minimize customer operational complexity. Let MotionPoint guide you in choosing the most effective translation technology for your business goals, no matter what corner of the world you're headed.
For a limited time, take advantage of our amazing BOGO offer! If you want to test out a new, foreign market like Mexican Spanish, why not try out Spanish for South American markets? If you sign up to get one language, we'll give you the second for free! Drop us a line today. 
Última atualização: 15 de junho de 2022