What is International Marketing?
International marketing is producing, distributing, promoting, and selling products into foreign markets by establishing a direct relationship with local markets. It's common for international marketing strategies to open in-country subsidiaries, branches, and offices to execute localized marketing efforts.
New market expansion can succeed in most industries and is used frequently em international e-commerce, travel, manufacturing, and technology. There are several reasons for international expansion, but business growth tops the list. According to Statista, global retail sales are projected to reach 31.7 trillion dollars by 2025. Companies that are willing to try international expansion can expect steady growth, along with brand recognition and increased revenue.
How to Create an International Marketing Strategy
An international marketing strategy supports business expansion into new markets around the world. Creating an international marketing strategy takes a solid foundation of research, knowledge, and a clear vision.
Start with Research
Understanding how your target customers shop or consume content online can help you improve the usability of your website and provide a better customer experience. Online market research can help you identify each point of a customer's buying journey. Market research is essential for understanding the target demographics, market conditions, and competition.
You can assess the potential of markets through keyword research, which can help you explore whether there's a demand for what your business offers. Use Google trends to see general trends that apply to your target market. Google trends can even filter results down to the location to assess demand in specific areas.  
Keyword research tools like KWfinder can give you more detailed search volume estimates of your keywords and phrases by country. Another way to gauge demand is through surveys. SurveyMonkey and similar tools assist in surveying your target audience in specific locations to determine areas with the highest demand. These tools allow you to gather feedback from your target audience by conducting surveys in specific places.  
Finally, use Trade.gov to research foreign markets, explore international resources, and learn how to obtain financing for projects. 
Define Target Audience
Before you can begin implementing any strategy in the international markets of choice, you must first understand to whom you are marketing. You can not assume that your current buyer persona will translate directly into foreign markets. To successfully market your product or service, tailor your international marketing efforts to specifically reach the population segment that will most likely buy your product or service.
Solidify Your Global Expansion Structure
After researching and pinpointing which markets your product or service will create profitability and who your target audience is, the next step is to determine how you'll present your product and service to the market. What's the most effective way to market and deliver your product/services to these target audiences? Different methods of international expansion include exporting, licensing, joint ventures, and franchising, among others.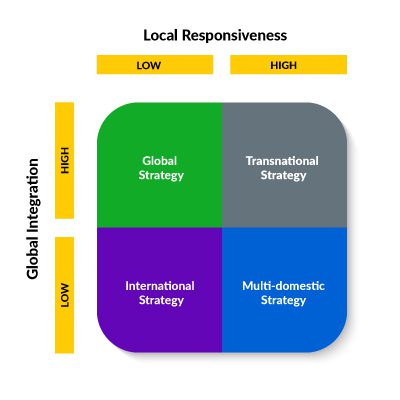 Companies can decrease the risk of entering a foreign market by forming partnerships with other companies. These companies should also have an interest in selling in that market. Joint ventures can earn more money than individual companies because they work like big independent companies, not just two small ones.  
Companies need to understand what strategy is more likely to succeed by inferring the degree of local responsiveness and global integration necessary for new and sustained growth. Multi-domestic and transnational strategies are well suited for international marketing plans. 
Key Considerations of International Marketing
International marketing considers more than just language – it involves culture, international law,  market saturation, and customer behaviors.
Culture and Language Barrier in Standardization vs. Customization Process
Adapting to a target market's culture, native language, etc., is essential when marketing a new product. Cultural adaptation improves website content for users by considering culture, language, and flow for a better experience. According to Common Sense Advisory, nearly 73% of customers prefer to purchase a product or service from a site that provides information in their own language, and 56% of consumers said the ability to obtain information in their own language is more important than price.
You will need to find a balance between standardizing translated content, like always translating a product name the same way, and customizing content, like, localizing different content pieces and campaigns uniquely for different markets.
Website localization can help you go beyond converting copy from one language to another. O processo de localização de websites takes account of local cultural sensitivities, contains cultural references that will speak to the target audience, has the right tone, and doesn't use idioms or phrases that won't translate well.
Government Restrictions and Regulations
International expansion is full of complexities, especially when it comes to compliance. For example, different countries have various legal requirements that must be met to operate within their borders. When entering a new market, you must abide by a country's regulations, payroll obligations, taxes, and labor laws.
These regulations are generally different from your home country and must be thoroughly researched before entering any foreign market. You'll also have to contemplate employment laws, visa applications, and insurance to cover your business and employees.
Coordination and Execution
When expanding globally, local subsidiaries and office employees might need to do more than just their job. Whatever you do, don't make your local Sales reps pretend they're linguists and translate content. Decide what you can take on internally and what you should outsource. 
Outsourcing tradução de websites can be a fast and cost-efficient path to increasing your reach without burdening your existing team. Hiring an experienced technology partner will quickly improve your infrastructure and help expand your brand into new markets effortlessly.
Outsourcing the translation and localization of your website to an experienced partner can streamline the effort and expense of translating, deploying, and operating multilingual websites.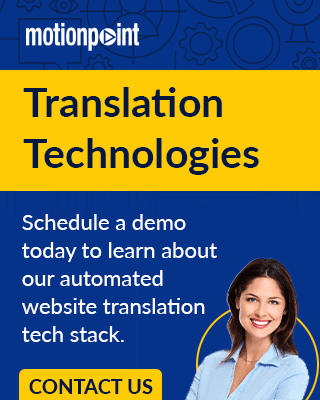 What are the B

enefits of International Marketing

?
Market Expansion
Expanding internationally opens your business to new markets and sales opportunities while learning about global audiences, preferences, and business expansion. In addition, international marketing can significantly open up a large customer base and sales opportunities. Today, customers can buy from across the world via the internet, making market expansion through international marketing a valuable skill for businesses to understand and employ.
Global Brand Management 
Companies also pursue international expansion to gain a competitive edge over their opponents. Businesses that expand in markets where their competitors don't operate allow them to build strong brand awareness with consumers before their competitors. You'll begin accumulating data, insights, and sales from global markets before your competition enters the market.  
Doing business internationally can improve a company's reputation and make it more recognizable. This can be helpful for things like negotiating contracts, launching new marketing campaigns, or expanding further in the future. 
Builds Brand Reputation and Awareness
With an international marketing strategy, new market expansion can build your brand's image with local communities and support your reputation. The more people see your marketing (in their language), the more they find your website, ask for info, and buy. Customers perceive brands selling in multiple markets as higher quality and offering better service than local-only brands.
Let MotionPoint Support Your International Marketing Goals
Understanding the demands and expectations of the challenges and benefits of expansion in foreign markets is essential to developing a dynamic international marketing strategy. The key to maximizing marketing efforts is ensuring that your content and materials are personalized, localized, and seamlessly delivered to targeted audiences wherever they reside. 
MotionPoint is a empresa de tradução e localização with experience in localization and website translation that have experts that can offer consultation to your particular business sector. You can trust the expertise of an agency like MotionPoint to provide multilingual localization, perfectly on point for worry-free expansion wherever your business takes you.
For a limited time, you can save up to $10,000 on your initial website translation and localization project! This exclusive offer comes with no set up fees, no initial conversion fees, and no code. You can expand to new global markets while saving thousands. Don't miss out on this deal.
Última atualização: 08 de junho de 2022