In the United States, English continues to be the most commonly spoken language in the country, but it is quickly being followed by Spanish, with about 41 million speakers. This dynamic of second language growth is not only exclusive to the United States, other countries are starting to see increased growth of other languages due to immigration. As this growth continues, businesses see opportunities to gain new markets by serving their customers in their preferred languages.
As businesses expand to meet the growing demand of their diverse customers, their first task is usually to translate their documents, digital content, or website. Most of these tasks are delegated to an agency, a team of marketers, or localization managers, who are often stuck on choosing the right translation technology to translate their website or publishing platform.
Proxy translation and translation integrations are the two leading translation technologies that have emerged to keep up with the growing demand for translating websites and publishing platforms.
What is Proxy Translation?
Proxy translation is a server application that a translation service provider provides, and it sits between the consumer and your website or publishing platforms server.
The technology gets activated when a user wants to access your multilingual website by sending a request through the proxy translation server. The proxy translation server then sends the page request onto your website's back-end, merges the translated content with the page's original code and structure, and sends the translated web page to the end-user. This method delivers an instant in-language experience to the user.
See a visualization of how MotionPoint's proxy translation solution works.
What are Translation Integrations?
Translation integrations allow native software applications to send content in need of translation to a language service provider and receive the localized content back programmatically.  They range from connectors and plugins to language translation APIs, which can be integrated into any tech stack, such as content management systems (CMS), marketing automation software, mobile applications, and publishing platforms. They extend the functionality of these tech stacks by connecting them to a translation services provider or Translation Management System (TMS).
Once a translation integration is connected to your preferred platform, you can then manage your translation workflows by sending content to your translation service provider or in-house linguist for translation. When the translation is complete, the chosen integration automatically receives the translations back into its system, ready for publication.
Learn more about leveraging CMS translation integration to gain new audiences.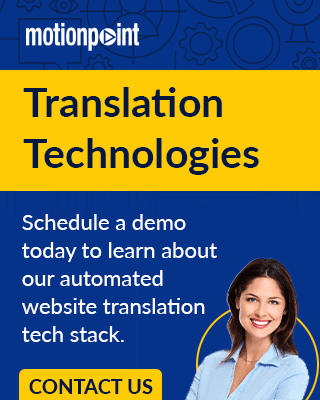 Which Option is Right for Me?
Proxy Translation eliminates the need for businesses to manage the translation workflow of localizing their content within their publishing platforms or tech stack. It also requires little to no IT support once the technology is implemented. With proxy translation, a website or publishing platform gets the added benefits of continuous translation, which handles the crawling of new content and separating the content into segments, which are then sent off for translation.
Typically, this approach is for businesses with a lean marketing team who require a fully managed translated website. Superior proxy translation also offers the benefit of automatically detecting new content, resulting in an accelerated market time.
Translation integrations automate the translation process by allowing its users to assign and receive digital content to in-house linguists or translation service providers from within their preferred publishing platforms. This enables businesses to host, send and receive translation directly into their familiar tech stack.
Typically, the translation CMS connector integration approach is for businesses with bigger teams, which includes a localization manager or translation project manager, who will directly send projects to the translation service provider or a TMS. Using CMS connector integrations requires a business to have a team that can manage the translation workflow, establish a QA process, and troubleshoots any technical issues that may arise while integrating the solution and maintaining the translation integration.
In contrast, those opting for a language translation API integration typically wind up with a much more automated process but need to have the technical resources (developers) capable of programming their application to automatically submit and receive the translated content via the API.
Depending on the level of effort needed and the business goals, most businesses new to translating websites or digital content tend to start with proxy translation. As they see more growth and their team size grows, they may implement a translation integration for their mobile application or try a hybrid approach with both translation technologies.
Choosing the Right Technology & Translation Service Provider
There are many approaches to translating websites and publishing platforms but picking the right translation service provider can make choosing the right technology approach seamless. Choose a translation partner that can guide your company and team to the right technology that fits your business needs and goals.
Conclusão
Not all technology and translation service providers are equal. Ensure that the translation service provider is knowledgeable about the translation industry and that their technology is up to date and secure. MotionPoint is a localization company that has successfully implemented multilingual website translation and localization for over 1,500+ websites in over 112 languages. Contact us to learn how you can leverage our proxy translation, translation integrations, or both.
Última atualização: 04 de abril de 2022